Download a mobile Bible app for following along during the sermon. Both use the same login information as your Faithlife account (what you use to sign into our church website).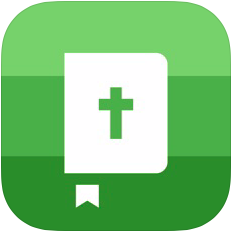 Faithlife Study Bible
The Faithlife Study Bible will help you understand the Bible more fully. It contains several layers of notes and many graphics, making it the most advanced digital study Bible anywhere.


Logos Bible Software
The Logos Bible Software app is the mobile version of the world's leading Bible software. This free download comes with several Bible translations and other resources, and there are more than 100,000 books related to the Bible you can buy through the app.
Understanding Signals On the Screen
The Faithlife Study Bible and Logos Bible Software mobile apps both listen for Signals from the slide presentation during a service.
Announcement slides will send a calendar signal to your phone, appearing as a hyperlink at the bottom of the app. Tap it to add events to your phone's calendar. And when Bible verses appear on screen, tap the Signal link to open the reference and follow along.
You can learn more about signals here. Be sure to allow the app to use your location, and then follow our church presentation when it is presented. You only need to do this once, and you'll be connected every week!
Other Mobile Bible Apps
Online Bibles
Here are some online Bible resources that can be used to study scripture. Some of them have mobile apps which maybe downloaded for your mobile phone of other handheld devices.
Precept's Vision is for people who are established in God's Word to live as exemplary followers of Jesus Christ, studying the Bible inductively, viewing the world biblically, making disciples intentionally and serving the Church faithfully in the power of the Holy Spirit. We strive to accomplish this by offering Inductive Bible Studies, Training Workshops, conferences, and events for men, women, and students. The ministry reaches nearly 185 countries and offers studies in 70 languages.
The Blue Letter Bible's mission is to facilitate an in-depth study of God's Word through an online interactive reference library (i.e. free Bible study tools). They view the Bible as central to our study resources, and intentionally designed the website to include study tools that are linked directly to Bible passages. God has graciously provided BLB with over 680,000 pages of Bible study content for us to use, to include:
Advanced Bible Search
Concordances
Original language lexical aids
Tools for cross-referencing related Scriptures
Audio, Video, and Text Commentaries
Daily Devotionals and Reading Plans
Spanish Language Resources
Social Networking and Applications
In-depth courses through the Blue Letter Bible Institute
One of BLB's key offerings is the Hebrew-Greek Lexicon, which gives us immediate access to the original Hebrew and Greek words of each passage as well as cross-referencing of the original language to other passages throughout the entire Old and New Testament (a tool so necessary in correctly interpreting the word of God).
Included within the ministry of BLB (above) is the Blue Letter Bible Institute (BLBi). BLBi is a co-laboring effort with other ministries, teachers, and Bible colleges aimed at providing online courses that are identical to courses being taught as part of Bible college curriculums, conferences and seminars. BLBi currently offers 13 courses with competency exams, and has proved to be an excellent resource to the lay body who are seeking to grow in the essentials of Christianity.
The Bible Gateway is a tool for reading and researching scripture online -- all in the language or translation of your choice! It provides advanced searching capabilities, which allow readers to find and compare particular passages in scripture based on keywords, phrases, or scripture reference.
You can view a complete list of available Bible versions and translations. To access some of the Bible Gateway's other features (a Verse of the Day widget, Bible commentaries, audio Bibles, and more), use the navigation menu on the left.


By signing up for a free account on BibleStudyTools.com you will be able to create your own personalized version of the Bible. Much like your own print Bible, My Bible allows you to:
Highlight and bookmark your favorite scripture passages.
Write and save your own study notes, cataloging them by topic, and attaching them to specific Bible verses.
Tag verses with topical keywords of your own choosing.
Share your notes and tags with our community of BibleStudyTools.com users as well as read the notes others have posted.
YouVersion is a simple, ad-free Bible that brings God's Word into your daily life.
Read the Bible
Take your choice from hundreds of Bible versions and languages. Compare two versions side by side. You can even choose your font and display size. Make your online Bible experience just the way you like it.
Study the Bible
Highlight in your favorite color, bookmark your favorite Bible verses, and make notes about what you're learning. Not only are you spending time in God's Word, you're building a history of your interaction with the Bible.
Subscribe to Bible Plans
Cover the whole Bible, focus on a topic, or read a devotional from a gifted teacher. Choose your plan and each day you'll find a Bible selection waiting for you.
Take the Bible with you
Download the Bible App for free on any mobile device. When you use the mobile app, your notes, bookmarks, highlights, plans, and more will be automatically synced across all of your devices.
A free Bible experience for your kids. Animated storybook app for smartphones and tablets. Colorful illustrations with touch-activated animations. Games and activities help kids remember what they learn. Kid-friendly navigation
Interactive Bible StudyThe Bible Study App makes reading the Bible an interactive experience with many ways to pull more meaning out of the Bible text itself or add your own thoughts with notes, bookmarks and tags.